While Blogspot has been down, I've been busy! A trip to Whole Foods, a baking success, a bridal shower, picking up my packet for the half marathon tomorrow, and signing up for the Bolder Boulder at the end of the month!
My trip to Whole Foods definitely convinced me to stop buying my produce from big chain grocery stores and start buying them from places that sells the fruits and vegetables locally. Example: take a look at the size of this strawberry!
Plus, these strawberries were juicier and sweeter and just better than anything I've ever bought from King Sooper's. Yes, please!
I also bought Sunny new cat food. Now, for the Whiskas wet food, he would barely eat half of what I served him, but as soon as I served him the Wellness brand of canned food? Om nom nom.
He's less keen on the Wellness dry food, but I bought him the formula for overweight cats. Maybe he'll warm up to it, but I think he prefers the junk of Whiskas meaty selections. I think next time I buy him dry food, I'll try to find the Wellness Core and see if he likes that any better.
Satisfied kitty is satisfied
Now, for Julia's bridal shower, I decided to try my hand at
this recipe for rhubarb strawberry apple crumble
, using fruit from Whole Foods. It turned out great!
It was also my first experience with baking with rhubarb. I've had it before in strawberry rhubarb pie from Village Inn, but I'd never even seen the plant before. People weren't kidding when they said it looks like red celery!
The bridal shower itself was amazing amounts of fun. There were a lot of good food, fun activities, and most importantly, great company and a beautiful bride-to-be.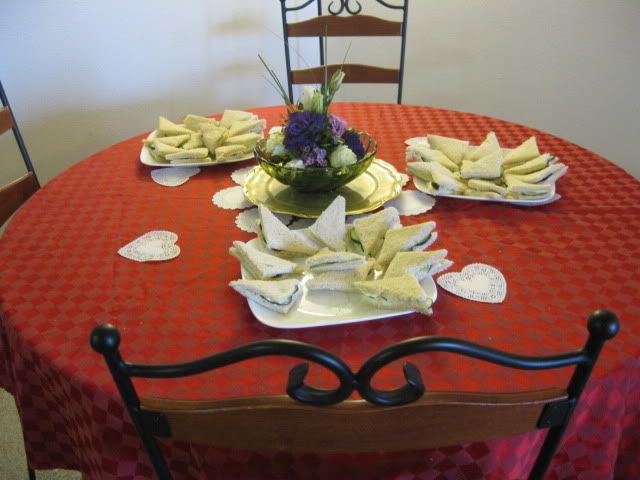 Michelle's mango salsa was amazing, and I can't wait to try the recipe out for myself!
There, I was convinced to sign up for the Bolder Boulder 10K, since Laura and Michelle are also running it. I also had a great conversation with Laura, who had run the Paris Marathon a month ago, about fitness-related topics. Plus, I announced to my friends my plans to go pescetarian, and I asked for help and advice from Prasanthi, a lifelong vegetarian, who gave me a lot of great pointers!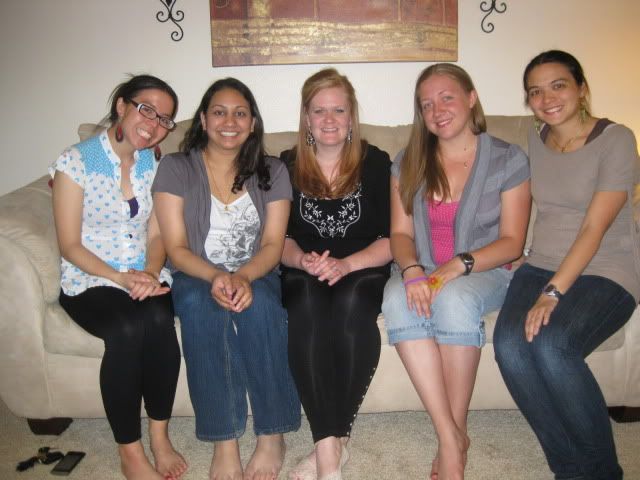 The best friends a girl can have
Packet pickup for the Colfax Marathon was also today. Quick and painless process! I signed up for the corral to finish the half marathon in under 2:40:00, so hopefully that means I'll be able to stay on target. My congestion has migrated to the back of my throat, which I suspect will be massively annoying during the (rainy) run tomorrow.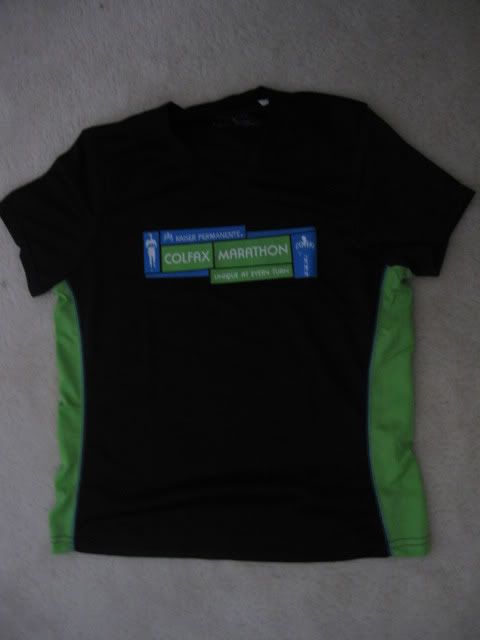 Tonight is Laura's birthday dinner, where we will be going out for sushi. I'm disappointed I can't stay for the salsa dancing part of the night, but guntime is 6am tomorrow. Have to get to bed early!